Medication Adherence is defined by a patient taking their medications as prescribed or continuing to take their medications. Medication taking is behavioral and addressing patients that are non-adherent by providing support and resources can help lead to better outcomes.
There's good reason — health-related and financial — to make this issue the focus of the WHO's third global patient safety challenge. In the United States alone, medication errors cause at least one death every day and injure about 1.3 million people every year. The global annual cost associated with medication errors is estimated at $42 billion.
The WHO initiative plans to address medication-related errors in the following ways: 
Address weaknesses in health systems that lead to medication errors

 

Improve the way we prescribe, distribute, and consume medications

 

Increase patients' awareness of the risks associated with improper medication use

 
A Closer Look At The WHO Medication Safety Plan
Medication accuracy and patient safety are top priorities at Parata. These are driving principles behind our pharmacy technology solutions. So, we were excited to see the WHO shine a light on medication safety. We dove into the plan.
The WHO Medication Safety Challenge web page offers resources for health care professionals and the public. We're looking for information on how the initiative will leverage pharmacists. We find a resource called Topic 11: Improving Medication Safety. Sounds like a good place to start.
Five pages in, there's still no mention of pharmacists. We're puzzled. But we continue reading. When we reach the end of the resource, we do a quick search.
In a 7,400-word document focused solely on improving medication safety, the word "pharmacist" appears only four times. None of them are prominent. For context, we check a couple more terms:
 "Doctor" gets 35 mentions 
"Physician" also appears 16 times

 

"Nurses" receive 39 references

 
What's With The Absence Of Pharmacists?
For those close to pharmacy, this imbalance points to massive oversight. Where is the rallying cry to include pharmacists — the medication experts — in this effort to improve medication safety?
We're not out to discredit the work of doctors and nurses or question their ability to impact medication safety. We're also not claiming the WHO is unaware of pharmacists' value — some of their previous work and words say otherwise.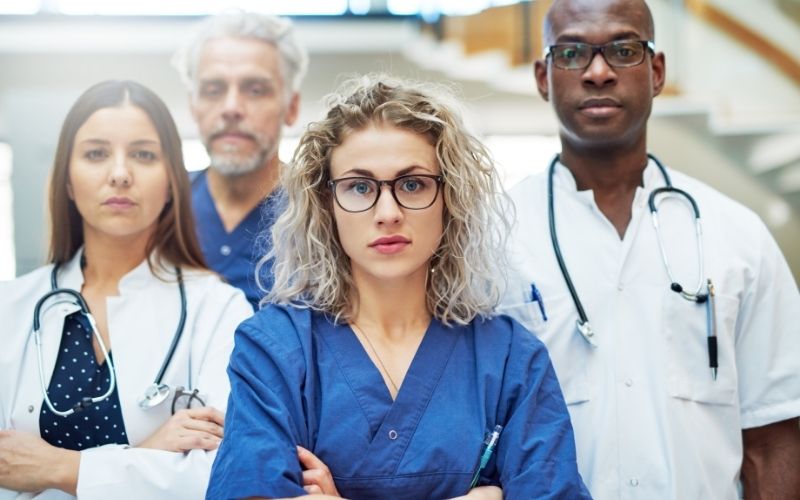 Our point is simply this: You've overlooked an essential member of the team.
Not Enough Doctors; Not Enough Time
Besides pharmacists being especially well-suited to address medication safety — more on this in a moment — including them in this initiative makes sound sense from a purely logistical standpoint.
By 2030, the United States will have between 40,800 and 104,900 fewer physicians than we need.2 You have access to almost 300,000 health care professionals who can help fill this gap. There were 282,000 pharmacists employed in the United States in 2015, and the profession continues to grow.3
The anticipated physician shortage is due largely to our growing aging population. Every day, 10,000 Americans turn 65. At the same time, chronic conditions — the leading cause of death and disability in the United States — are on the rise. Three in four Americans aged 65 and older have more than one chronic condition, according to the CDC.
Prescription drug use increases with age and with chronic illnesses. This growing group is more likely to experience adverse drug events — exactly the challenge the WHO aims to solve.
One of the WHO's recommendations is for physicians or nurses to complete a full medication reconciliation during a patient visit. This advice has also appeared in prominent news outlets, including the New York Times and the Washington Post.
Medication Reviews Take More Time Than Doctors Have
While this sounds great in theory, it's difficult to conduct a thorough medication review during a typical doctor visit. The primary challenge: time.
Doctors may have appointments scheduled at 15-minute intervals, or even shorter. 5 A Harvard Medical School study found that patients actually see a doctor for only 20 minutes during a typical appointment.6
It takes between 30 and 60 minutes to complete a medication reconciliation session or brown bag medication review.7 At its shortest, this is 50 percent more time than patients and physicians have together. 
Is it reasonable or wise to encourage patients and doctors to use their limited time with patients to gather a medication list? Or are those few minutes better spent having a real conversation about health and wellness — the reason the patient has come to the doctor?
Physicians are already overextended and time-crunched. Adding tasks to their days exacerbates the stressful conditions and heavy workloads that are among the primary causes of prescribing errors in the first place.8
There's A Safer, Smarter Solution
Pharmacists can fill the gap.  
There's another member of the health care team who can address medication safety: Pharmacists. 
Let's look at three reasons primary care and pharmacy make an incredibly effective duo:   
Accessibility

 

Expertise

 

Impact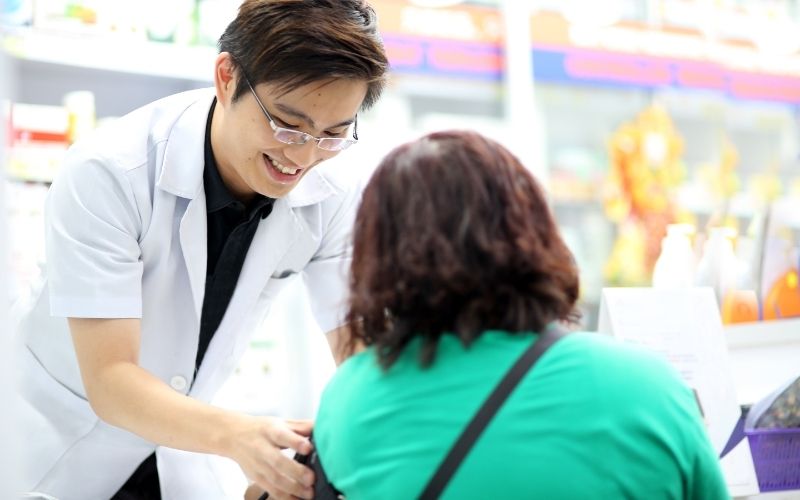 Pharmacists Are Easily Accessible
Pharmacists have frequent opportunities to engage patients and support better health outcomes. They're often present for critical and coachable moments, such as after a patient gets a new diagnosis or heads home from the hospital. Here's why.
Everyone is near a community pharmacy.  
More than 90 percent of Americans live within 5 miles of a community pharmacy. In urban areas, the distance to your nearest pharmacy is even shorter — under a mile and a half.9
This convenience makes it easy to drop into a pharmacy. There are approximately 275 million patient visits to a pharmacy each week — the equivalent of about 85 percent of the U.S. population.10 There were 922.6 million patient visits to physician offices in the full year of 2013. 11 Patient visits to a pharmacy surpass that number in less than a month.
Pharmacists are available without an appointment.
Need to see a doctor? Hang in there a few days. In U.S. cities, the average wait time to see your family doctor is 18 ½ days. Depending on your location, the wait could be as few as five days or as many as 66.12
Many pharmacies offer extended hours. Patients can walk into a community pharmacy on an evening or weekend and speak to a health care expert. They get almost-immediate access to answers and advice — no appointment needed.
People trust pharmacists' advice. 
Gallup conducts an annual poll on how Americans view the honesty and ethics standards of various professions. For the past 14 years, pharmacists have ranked among the top three most trusted professions.13 (Nurses have taken the number one spot for the past 15 years.)
This trust — earned through the close relationships pharmacists have built with patients — is tremendously valuable in efforts to influence behavioral change that will improve patient health and outcomes.
Need some evidence? When a pharmacist offers counseling and recommends a product, patients take the advice nine times out of ten.14
Pharmacists Are Experts In Medication Therapy
When a physician walks into an exam room to see a patient, his aim is to focus on all possible diagnoses. When a pharmacist approaches a patient, she has the physician's diagnosis in hand. Based on this diagnosis, pharmacists can help determine the most appropriate medication therapies
Pharmacists focus on therapy, rather than diagnosis.  
This division of work is a simple explanation for how physicians and pharmacists complement each other. It's rooted in the curriculum of medical schools and pharmacy schools. Physicians are taught to diagnose; pharmacists are taught to treat.
During their four years of school, pharmacy students take courses in biomedical, pharmaceutical, social-administrative, and clinical sciences. They also take a collection of courses dedicated to specific therapeutic areas. This gives pharmacists a deep knowledge of prescription drugs and medication therapies. They are the medication experts. 
While medical students preparing for a future as a general practitioner or specialist take courses in pharmacology, most don't review pharmacy at the same level.
New prescription drugs are entering the market faster than ever.
If the commercials are any indication, there's a new prescription drug to ask your doctor about every week. That's not too far off.  
In 2014, total drug spending rose by $24.3 billion. More than half of that increase was spent on brand-name drugs on the market for less than two years.

15

 

In 2015, the FDA approved 45 novel drugs — products classified as new molecular entities that haven't been approved before.

16

 

 

In 2016, a record-breaking 800 plus generics received approval to enter the market.

17

 
The availability of new drugs and new generics often mean more treatment options and reduced drug costs. But with more than two new drugs coming out each day, it's almost impossible to keep up with the options available.
This is another area where physicians can look to pharmacists for support. Pharmacists maintain an enormous knowledge of prescription drugs and stay informed of new therapies
Want a thorough medication reconciliation? Have a pharmacist do it. 
A number of studies have compared the results of medication reconciliations conducted by pharmacists, nurses, and physicians. Pharmacists consistently identify more discrepancies and opportunities for intervention
Some of this may be due to time and environment. Much of it has to do with this: pharmacists review medications every day, and their expertise and experience makes them uniquely suited to do thorough medication reviews.  
Pharmacists also go beyond a medication reconciliation or a brown bag review. In a medication therapy management session or comprehensive medication review — often covered under Medicare Part D — pharmacists incorporate motivational interviewing. This gives them a chance to gauge how well the patient understands their medications and how to take them. With this bigger picture view, pharmacists can further enhance health and wellness.  
Pharmacists Improve Outcomes And Reduce Costs
The Global Medication Safety Challenge prioritizes these opportunities for early action:  
High-risk medicines

 

Patients on many medications

 

Patients going through transitions in care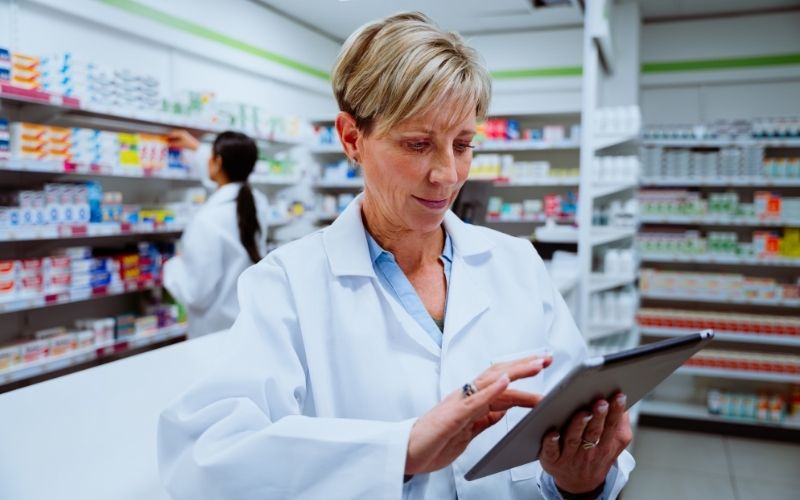 Look familiar? Pharmacists are already taking action in these areas. They relate to measures under the CMS Five Star Quality Rating System.
As chronic conditions increase, so does the need for pharmacists. 
In 2012, chronic conditions affected 117 million American adults — almost half of the U.S. population.21 As that figure continues to rise, so do our health care costs. Seventy-five percent of our health care spend is attributed to chronic diseases.22 
Medication therapy is essential in managing many of the costliest conditions. (Heart disease and diabetes top the list.) These patients are more likely to have more than one chronic condition, take several medications, and see three or more doctors. These factors put them at greater risk for the dangers of polypharmacy.23
Pharmacists can provide the support these patients need to better manage their conditions. Through tweaks in medication therapies, counseling, and communication between the patient and the care team, pharmacists can help patients lead healthier lives.
Data Shows Pharmacists Positively Impact Patient Outcomes
What happens when pharmacists have a central role on the patient care team? They increase access to care, leading to improved adherence and therapeutic outcomes.
A study of 2,000 patients with heart failure — a leading cause of hospitalizations —looked at the impact of pharmacist care over 10 years. They found pharmacist involvement contributed to a 29 percent reduction in heart-failure hospitalizations.24
A four-year study examined the impact of clinical pharmacy services among low-income patients with type 2 diabetes. The results showed clear improvements in clinical outcomes. Through clinical interventions, the pharmacy team helped patients reach disease-state goals.25
When patients stay healthy at home, they cost the system less. 
This may be one of the clearest indicators of pharmacists' impact on patient health. Total costs of care are lower when pharmacists work closely with patients.  
The health care system may save up to $37 for every dollar spent improving medication adherence.

26

 

A study of the financial impact of MTM programs among Minnesota Blue Cross Blue Shield patients showed savings of more than $3,700 per patient.

27

 

A review of 25 studies involving more than 40 pharmacists and 16,000 patients found expanded pharmacist services led to a decrease in non‐scheduled health services, specialty visits, and the number and cost of medications — all of which should result in a lower cost of care.

28

 
There's Still Time To Build The Dream Team
The issue of medication safety affects us all. As WHO Director General Dr. Margaret Chan said, "Every person around the world will at some point in their life take medicines to prevent or treat illness."
When it comes to building a team to tackle the full spectrum of medication safety, pharmacists are an indispensable player. 
We're not the only ones making the case for the pharmacy profession taking on big challenges. These organization are also advocating for pharmacy:  
If you believe pharmacy teams should be part of the effort to improve medication safety, we encourage you to share this post. Keep the conversation going. 
And for anyone at the World Health Organization reading this — if you're looking for pharmacists who can support your efforts to improve medication safety, let us know. We have a few thousand friends we'd be happy to recommend.