Vial Filling Solutions:
Reliability, Speed, and Support
Technology You Can Count On
We're proud to offer the premier line of high-speed automation solutions to ensure safety, accuracy, and efficiency in every pharmacy setting. We make it — and make it better — because we're driven to free your time so you can do what you do best — support your patients and lead your team.
Learn More About Vial Filling Automation
Backed By The Best Team In Pharmacy Automation
It's the team behind the technology that keeps you up and running.
Everyone at Parata wants to see your pharmacy — and patients — thrive. Our technical assistance centers in North Carolina and Wisconsin are available for any questions you have about your robot. And our field service team works for Parata, not a subcontractor, so each technician is trained to be an expert in the maintenance and repair of your Parata technology.
Accurate for Drug and Dose*
*Parata automation uses barcoding to verify a match between the inventory bottle NDC, unique to medication and strength, and the barcode on the dispensing cell. Parata automation selects the correct cell for dispensing 100 percent of the time, ensuring accurate drug and total dosage when proper processes are followed by the pharmacy.
Parata Max® 2 High-Speed, Vial Filling Robot
Full vial filling automation including labeling, counting, dispensing, capping, and sorting has met its next generation with improved function and form.
Parata Mini® Automated Dispenser
Get big technology in a small footprint. Don't waste valuable time counting by fives; leave it up to Mini.
Parata AccuCount® 2 Scale
AccuCount 2 is cost-effective with the precision to accurately weigh oral solids in seconds for efficiency gains in dispensing and inventory management.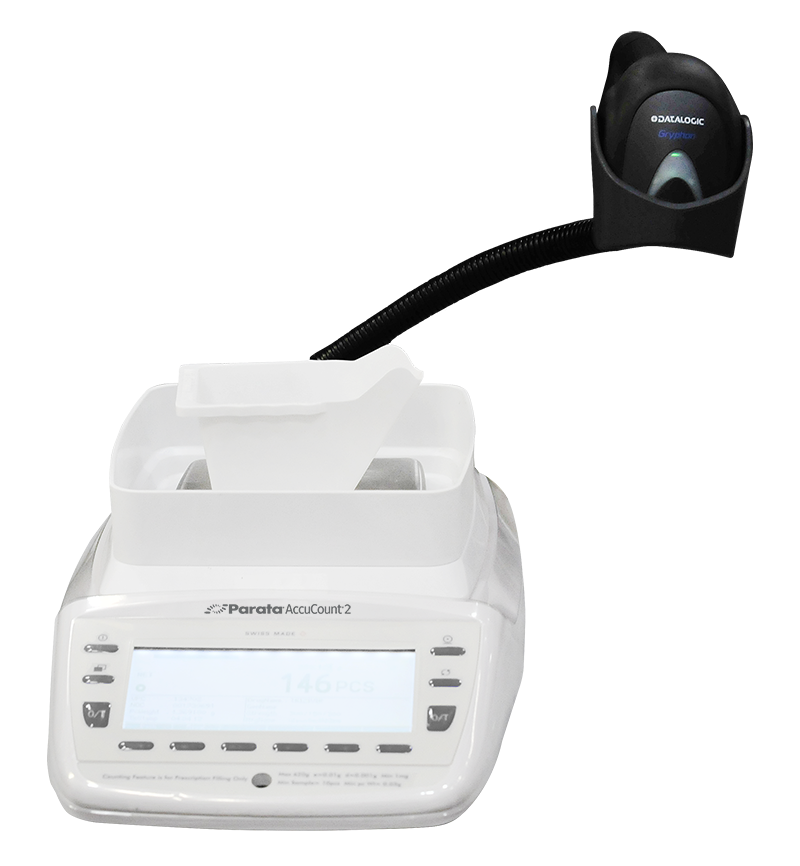 Precisely weigh tablets in seconds.
Easily compound prescriptions.
Ensure accuracy with barcode verification.
Swiss weighing precision and Class II Scale certification.