Fans of Max, our vial-filling robot, already knew they were using the best in class counting technology on the market. But 10 years after the launch of Max, we set out to deliver enhancements to the day-to-day usability and design of one of the industry's most popular pharmacy automation solutions. We'd listened to our customer's ideas and feedback — after all, they're the experts when it comes to usability.
Every Day Should Be A Great Day With Max 2
Improved Interaction with Software
We made the software easier to navigate and more intuitive to save time and simplify training new members of your pharmacy team. Touchscreens on both sides of Max 2 are 20% larger to further improve usability.
Speaking of those big, beautiful screens – they also keep you connected to Parata. You can use them to access on-demand training and documentation or even request help from Parata – all without picking up the phone.
Calibrate and Keep Things Moving
Changing or adding NDCs is quicker than ever because we added smart software and mechanics able to precisely calibrate cells. Since Max 2 can keep running while you replenish vials, caps, and drugs, there's no need to stop your workflow for calibration.
We Turned the Lights On
We didn't mean to make Max 2 flashy. Well, okay – we did mean to make Max 2 flashy. The new LED lights (blue, yellow, and red) are just one more way we wanted to keep your workflow flowing as smoothly as possible. Powered by active sensors, the status lights quietly alert you when Max 2 needs attention so you can focus on other tasks instead of constantly checking bins.
The Camera Is Included
Every Max 2 comes with an integrated camera – it's not extra. The new camera images each vial prior to capping so you can check the contents from the touchscreen monitor. Zoom in, zoom out, and get the level of detail you need.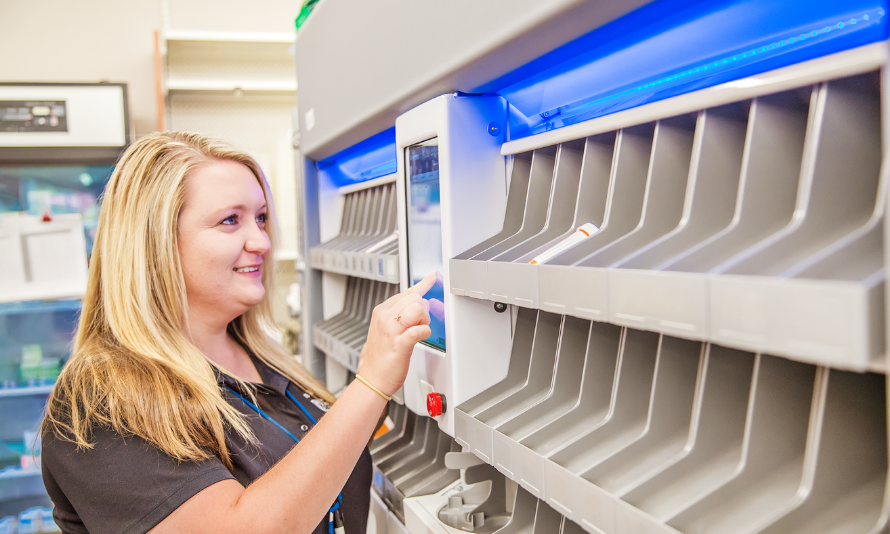 We Made It Better, But We Also Made It Prettier
Design changes a lot in 10 years for both software and hardware. We'd be lying if we said we didn't want to improve the aesthetic of Max. And we don't lie.
Clean and Sleek
Max 2's new covers go through a totally new manufacturing process, so the material won't yellow over time – this robot stays gorgeous. We improved the vertical footprint by integrating the HEPA hood to give you more flexibility in placing Max 2. We even changed the direction of the exhaust vents, so the operator isn't standing in the wind while working.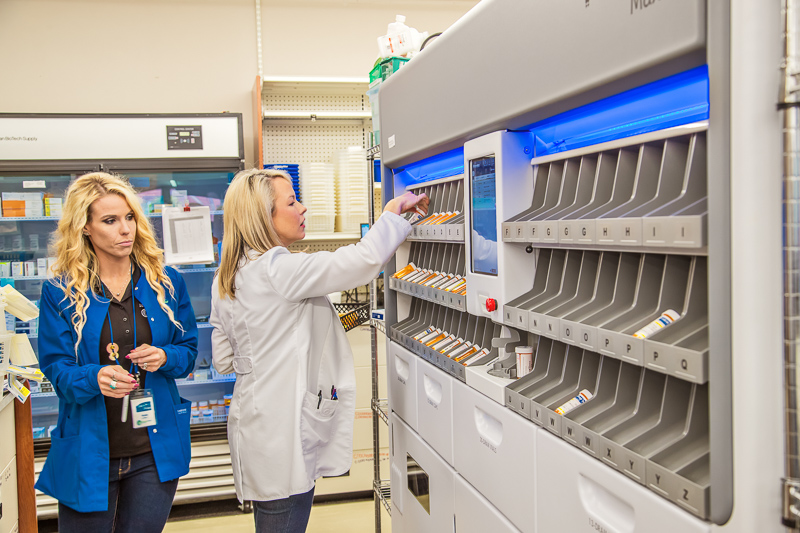 We Can't Take ALL The Credit
Your Voices Have Helped Improve Max
Why did we make Max 2? To keep our promise. We design, build, and support pharmacy automation you can count on. That includes making improvements to benefit your pharmacy team and business. In the end you get the accuracy, speed, and security Max is known for with enhancements to design and improvements to make the day-to-day usability of Max 2. Brains and beauty? Of course.