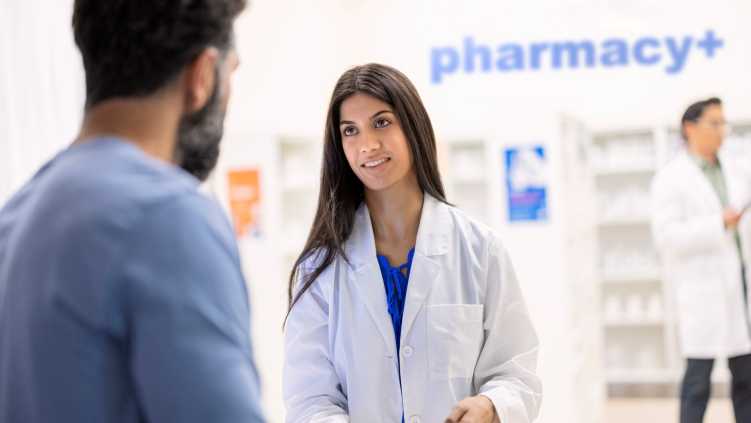 An article by BD CEO Tom Polen
As the U.S. healthcare system faces a growing population of people with chronic disease and a shortage of healthcare workers, an important solution may be hiding in plain sight. Just consider two telling statistics. Today, 60 percent of Americans live with one or more chronic disease – and nearly 90 percent of people live within five miles of a community pharmacy.
This means pharmacists, in hospital outpatient pharmacies or community settings, are ideally positioned to provide the care that patients want: personalized, high-touch and convenient. They bring deep expertise, years of training and trusted relationships with their community. And the pandemic has shown the incredible demand for care services in new, more accessible settings like pharmacies.
But pharmacists need new tools for this new role. Currently, they must still spend far too much time on tedious, manual tasks like filling vials and capping bottles. Though COVID exacerbated the increase in their workload and responsibilities, pharmacists have long been stretched thin. Pharmacies are reporting widespread staff shortages, leading to reduced hours and longer wait times.
Automated pharmacy solutions offer an answer. AI, robotics and smart devices can free up pharmacists for meaningful, high-value care by automating rote work such as sorting vials, checking labels and managing inventory.
Most importantly, this enables pharmacists to focus on helping patients, not counting pills. At scale, this will transform your neighborhood pharmacy into a healthcare powerhouse.
When freed from cumbersome work behind the counter, pharmacists can draw on several advantages to expand their role in care.
First, as our population ages, medication management is becoming more important than ever. According to the CDC, more than 40 percent of adults 65 and over are taking five or more prescription drugs. Pharmacists can help people to understand and manage these complex regimens, sync their medications, improve adherence and even prevent hospitalizations.
Critically, pharmacists are already embedded with their communities, and more than 60 percent of adults want a larger range of health services from their pharmacy. Pharmacists can leverage those existing relationships to help promote overall wellness, offer testing for diseases like flu or COVID and support mental health.
There is also ample opportunity for greater collaboration between pharmacies and other healthcare organizations to better take care of patients living with chronic disease, whether they are in long-term care or aging at home. For example, pharmacies can partner with physician groups to offer disease-state counseling programs tailored to the needs of long-term care residents. A hospital's "meds to beds" program can provide medication consultation from a pharmacist before discharge, offering 1:1 attention and reducing strain on other providers.
Right now, we see time as the most critical value add within the pharmacy. As widely reported, major retail chains have cut their daily pharmacy hours to manage operational demands. Pharmacy automation offers the promise of giving time back where it is needed most. With the right solutions, pharmacists can get back to spending more time with their patients, and ultimately be at the center of personalized care.
As adoption of pharmacy automation accelerates, we will see the role of the pharmacist evolve. There's growing demand for pharmacists to extend the services of primary care through chronic condition management, prevention and wellness, diagnosing and treating minor acute illnesses and more.
That's why it's so important that we power a growing network of pharmacies with technologies that automate and streamline workflows, so pharmacists can concentrate on personalized, community-based care.
We know the future of healthcare depends on providing more efficient care for chronic disease in more accessible settings. Those trends all converge in one place: the pharmacy.