Medication adherence is a common challenge across all care delivery settings. Research has shown that non-adherence costs the U.S. almost $290 billion a year, when adding up the expenses of emergency department admissions and worsening of chronic conditions.
The correctional care setting is no different; and providing individuals who are experiencing incarceration with emergency care as a result of medication non-adherence can come with additional challenges not seen in other populations – like unique transport situations, behavioral barriers, and the need for a lot of extra onsite personnel once at a hospital. However, through implementation and use of pharmacy automation and adherence packaging, these facilities can keep their patient population adherent, healthy, and safe.
Bringing Quality Care Inside Correctional Facilities
In most correctional facilities, the incarcerated population relies on an external pharmacy for prescription filling. In some cases, an onsite pharmacist may be available, but such staff can be limited and typically relies on a centralized location to fill medications, and an onsite nurse manager or equivalent to administer. This makes the case for dispensing and administration solutions that are concurrently low effort for staff and well managed to support patient adherence.
While correctional facilities strive to be well organized, there are plenty of barriers to medication adherence, throughout the chain of custody – most of which can be mitigated through the use of automation technology and compliance medication packaging.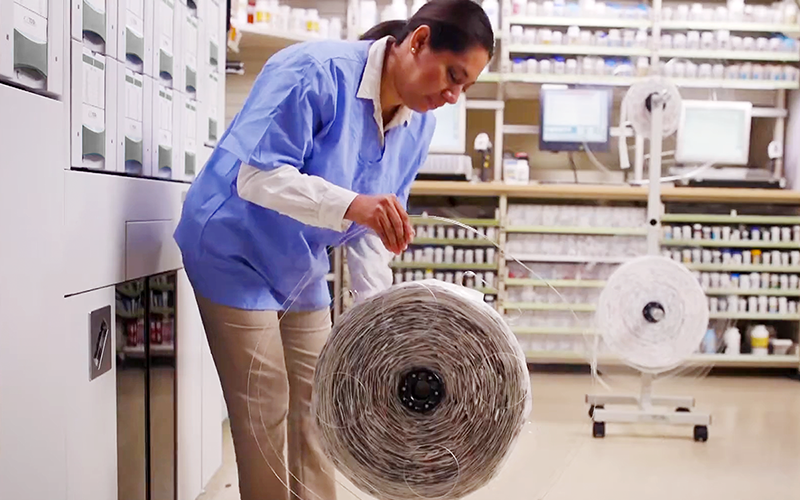 Packaging to Relieve and Support Staff
Volume of prescriptions, which can be substantial when delivered from a centralized filling facility, can be challenging to manage for onsite staff. When medications are pre-packaged by dose and time of day, either with a multi-dose blister or pouch packaging, it eliminates the need for multiple numbers of tablets in the hands of facility staff – an overwhelming situation that could lead to dangerous mix-ups.
These packages are especially well-suited for individuals with complicated prescription regimens, where multiple medications are being dispensed at multiple times throughout the day. Such packaging also leaves no guess as to whether the prescription was given, as the pouch or multi-dose blister will be empty once it has been administered.
The same benefit applies to working in high-stress situations, where an individual could be resistant or combative, and the situation may be particularly distracting to onsite staff. Should a package be intercepted and recovered, it is readily apparent if a dose has gone missing.
Automation and Technology to Support
The United States correctional system is stretched thin when it comes to financial support and sufficient staff. Any measures that can be taken to alleviate these stresses is a benefit to care providers, as well as individuals who are incarcerated and their outcomes. Outside of the correctional system, studies have demonstrated that access to healthcare dramatically reduces crime and instances of re-offense.
Making such care a reality has the potential to lighten the burden on both the U.S. justice and health care systems. Bringing in technology solutions that can automate the packing and filling processes can exponentially increase the speed, safety, volume, and cost-efficacy of prescription administration, reducing the likelihood of medication non-adherence at the administrative level.
Learn more about both technologies to support centralized filling of medications, as well as automated blister and pouch packaging for easier medication administration.