The role of a pharmacist in today's world is constantly evolving and more so than ever, pharmacists are now directly involved in patient care. The pandemic pushed pharmacists to the forefront of the fight against COVID-19, to a more prominent and proactive role as true frontline healthcare providers.
However, day-to-day tasks such as patient counseling, prescription filling, doctor phone calls and more have not stopped – vaccinations were simply added to the ongoing daily activities. As such, pharmacists have had to find a way to adapt, and many turned to automation. Leaning on technology to perform redundant tasks such as pill counting and packaging has allowed pharmacists to be front of house counseling and supporting patients.
Parata thought leaders, in addition to customer Jason Turner, PharmD, owner of Moundsville Pharmacy, spoke to industry publications on the topic, providing expert insight. To see what they had to say, keep reading.
Pharmacies Have the Vaccines, but Do They Have the Time?
With a newfound focus and pressure on pharmacies and pharmacists as frontline healthcare providers, the industry needs to ensure these pharmacies are equipped to handle such demand. In a ComputerTalk byline, Thomas Hanzel, Pharm.D. and the national VP of long-term care and nutraceuticals at Parata discusses how pharmacists can practice at the top of their license, focus on counseling patients, and working on clinical initiatives such as immunizations, while machines do repetitive tasks of counting and filling prescriptions in the back room. Read the full piece here.
"Through the use of technology, these pharmacies can feel confident in the ability to have pill counting and packaging completed accurately and quietly in the back, while they work at the top of their license to deliver vaccines, care, and education."

Improve Immunization Efficiency With Automation
As pharmacists think about how to improve workflow efficiencies and create a stronger system management, technology and automation are front of mind. Parata's director of product strategy, Peter Saad, PharmD, MBA, spoke with Drug Topics on why technology and automation are key in freeing up time for pharmacists and technicians to focus on clinical initiatives. Additionally, Parata's customer Jason Turner, PharmD, owner of Moundsville Pharmacy in Moundsville, West Virginia, noted a great way to create a strong foundation of efficiencies in a pharmacy is to initiate a medication synchronization program. He also touched on how pharmacies can prepare for COVID-19 vaccinations, and how technology can support. Read the full piece here.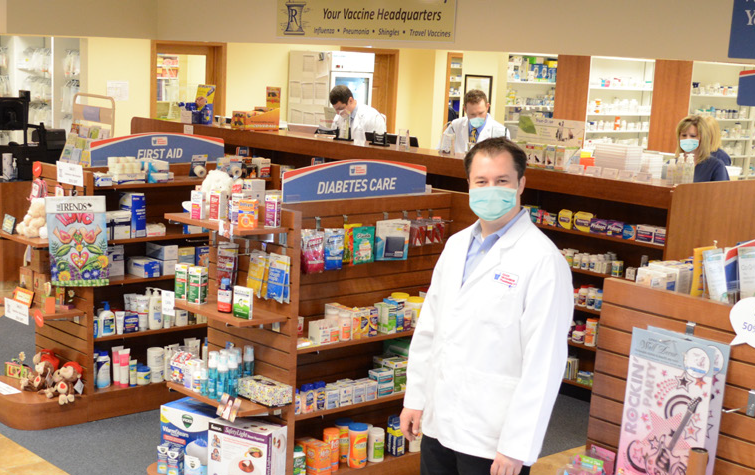 "Not only will it allow pharmacists to move to the front of the pharmacy and practice at the top of their license, but it will allow for value-adding activities for patients, all the while technology is handling routine prescription fills quietly in the back of the pharmacy."
How Automation Can Provide Pharmacists With Time for Vaccinations and Clinical Initiatives
When the COVID-19 vaccinations are said and done, there will still be an immense opportunity for pharmacies to lean on automation. Pharmacists are already the go-to provider for the flu vaccine every year and will most likely continue to be the most accessible healthcare professional, but now will possibly also be responsible for annual COVID-19 vaccines – or boosts – based on new variants as well. In this Electronic Health Reporter piece, Thomas Hanzel highlights how pharmacies can use reallocated time as a business advantage, and ultimately, improve patient and community health. Read the full piece here.
"The resurgence in respect as true frontline healthcare workers for pharmacists is as important as ever. Pharmacists are already well known to be diligent and hardworking professionals, but they can't do it all on their own. Automation can provide the time and efficiencies pharmacists need to keep pushing the profession forward."

Pharmacy Automation is Critical to Win the Fight Against COVID19
Over time, the pharmacy industry has seen a major shift, from pharmacists being the most accessible and respected health care professionals, to essentially becoming short-order cooks: keeping their heads down, counting the pills, filling the vials, and repeating. In the Pharmacy Times piece below, Thomas Hanzel argues pharmacists are now starting to push back and once again provide valuable interactions to patients in the form of face-to-face consultations, home delivery, in-person medication reviews, and telehealth. The pandemic has reignited the connection between patients and pharmacists. As such, pharmacies must find the necessary resources, tools, and time to meet these demands. In comes pharmacy automation to provide these assets. Read the full piece here.
"Although the expectations put upon pharmacies have changed aggressively during this past year, the goals have stayed the same: being accessible frontline providers; helping keeping communities healthy; and putting patients first. Implementing the right automation now will thrust pharmacies into the future, give them a renewed focus, and continue to diversify the role of pharmacists."