Tulip Clinical Pharmacy
Tulalip Clinical Pharmacy exemplifies the importance of community outreach through their goals and daily efforts to serve the Tulalip Tribe and surrounding communities. The Tulalip tribal population is over 5,100, with about 2,700 members residing in the Tulalip Indian Reservation located in Snohomish County, Washington. Most of Tulalip Clinical Pharmacy's patients are tribal members, and the pharmacy is committed to providing exceptional clinical and pharmaceutical services for the Tulalip people and community.
According to Kelvin Lee, pharmacy director at Tulalip Clinical Pharmacy, their main objective is to take care of the tribal communities through education and service. They have implemented programs and initiatives to enhance their community outreach, including after-hour pick-up kiosks, collaborations with University of Washington School of Pharmacy, curbside vaccination clinics, and vaccine clinics at local schools. Kelvin is always looking for innovative ways to support the tribal community, often turning to technology for efficiencies. "The more efficient we are, the more people we can reach on the reservation," he says.  He is currently using technologies to tackle the significant substance abuse issues in their community and to help increase medication adherence with the tribal elders.
During a recent vaccination clinic in partnership with the University of Washington's School of Pharmacy, Tulalip Clinical Pharmacy worked with students to educate patients and administer COVID vaccines.
"I'm appreciative of the fact that I can help during this time. I have people in my life who are more prone to COVID…knowing that I can help out in the community is great," said Diep Ngo, Tulalip Clinical Pharmacy volunteer and University of Washington pharmacy student.
It's innovators like Kelvin Lee and Tulalip Clinical Pharmacy, Dr. Angela Adams, and Bretton Walberg and Walberg Family Pharmacies, dedicated to serving their communities that minority health month celebrates. #greatcustomers #pharmacy #innovation
Dr. Angela Adams
In her pharmacy practice, Dr. Angela Adams has observed, and has firsthand knowledge of, the impact of health disparities. For more than 25 years Dr. Adams has addressed disproportionate health burdens by working with and engaging underserved populations to take a proactive role in decreasing the health disparities in their communities. She has been actively engaged in focused efforts, developing initiatives that address and help eliminate health disparities. As a pharmacist she has participated in health disparities research, provided health advocacy trainings, and organized outreach health promotion events. Her inspiration for action came professionally and personally. Professionally, she saw the need for culturally tailored health education programs for underserved populations and, personally, she watched a family member die prematurely from prostate cancer due to a lack of understanding of the disease and fear of treatment.
As a result, she organized the first Black Men's Health Summit in Orlando, Florida over 20 years ago to educate African American men and other minorities about their risks for prostate cancer, the importance of early detection, and understanding treatment options. Over the span of twenty years since its inception, more than 50,000 men have attended this event. Along with free prostate cancer screenings, they offered screening for oral cancer, heart disease, kidney disease, HIV, blood pressure, diabetes, hearing, vision, mental health, lung function, and colon cancer. The Summits also offered interactive health promotion workshops.
Her dedication to educating minority groups about health challenges specific to them didn't stop there. Dr. Adams also organized the Crossing Bridges: Hip Hop Teen Health Summits that were held in conjunction with the Black Men's Health Summits. Crossing Bridges attracted more than 2,000 teenage boys.
She was awarded a grant from the Florida Department of Health to launch the Health Outreach & Prevention Education (HOPE) Training Academy which trained others to help decrease health disparities. She also developed a program that teaches teen boys the importance of nutrition and one for seniors that teaches them to manage their medications safely. On top of all that, she is the author of nine editions of the African American Health and Resource Directory that has been distributed to 100,000 households in the Central Florida Community.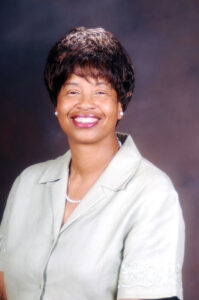 Health Matters: Celebrating National Minority Health Month
Humans are all different. Eye color, hair color, skin tone, texture, body shape, personalities. So it stands to reason that each of us – and the different groups we're each a part of – has different health characteristics and propensities. Despite knowing this, we tend to lump everyone into the same buckets when it comes to examining and treating diseases and that's doing a disservice to groups who are inordinately affected by certain conditions.
April is National Minority Health month, a time to raise awareness about health disparities that continue to affect people from racial and ethnic minority groups and encourage action through health education, early detection, and control of disease complications.
This year's theme is Give Your Community a Boost! Here at Parata, we figured it was the perfect time to recognize a few of our customers who are out in their communities, working through the pandemic to deliver vaccines and educate on their importance in preventing Covid in communities that are disproportionately affected by the virus. Pharmacists everywhere have stepped up to battle Covid, serving as important resources and points of care for the past two years. We are proud to support them with our solutions that ease their workload, allowing them to serve in this important role of care provider.
Throughout this month we'll show you just a few of our #greatcustomers, each making an impact on people's lives.
Walberg Family Pharmacies
Walberg Family Pharmacies, a mid-sized chain of family-owned pharmacies in northeast Pennsylvania, has worked tirelessly over the past two years to bring as many vaccines as possible to their community. Over the course of the pandemic, they've administered over 57K covid vaccines, including hosting vaccine clinics at churches and schools in areas with a larger African American population.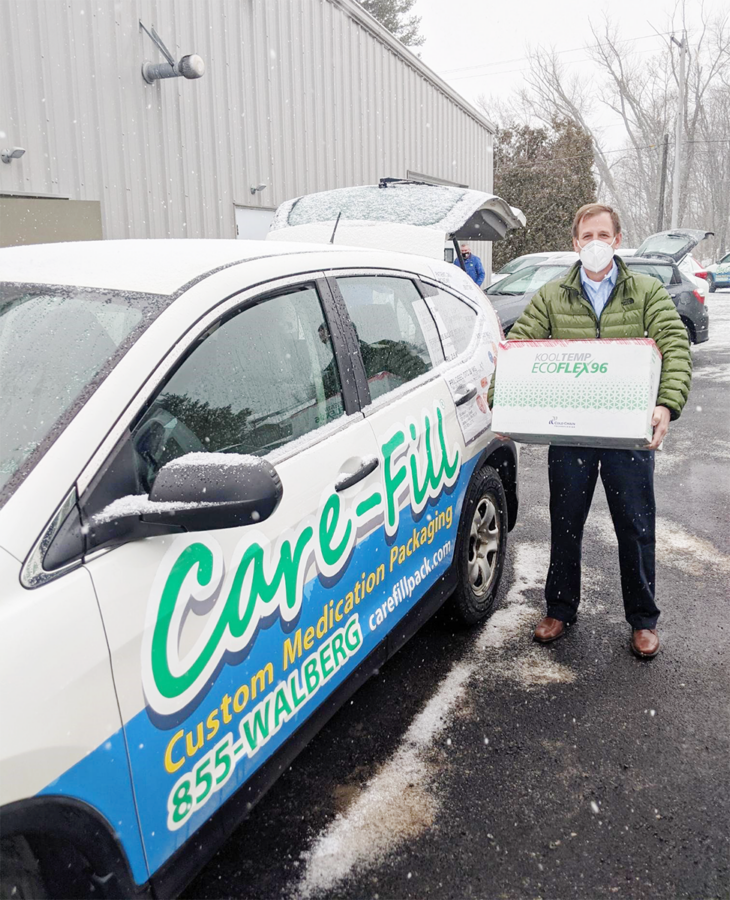 Bretton Walberg, owner of Walberg Family Pharmacies, transports vaccines out into the community.
A vaccine clinic at Farrell High School brought vaccine to the community, making it easier for some people to get vaccinated.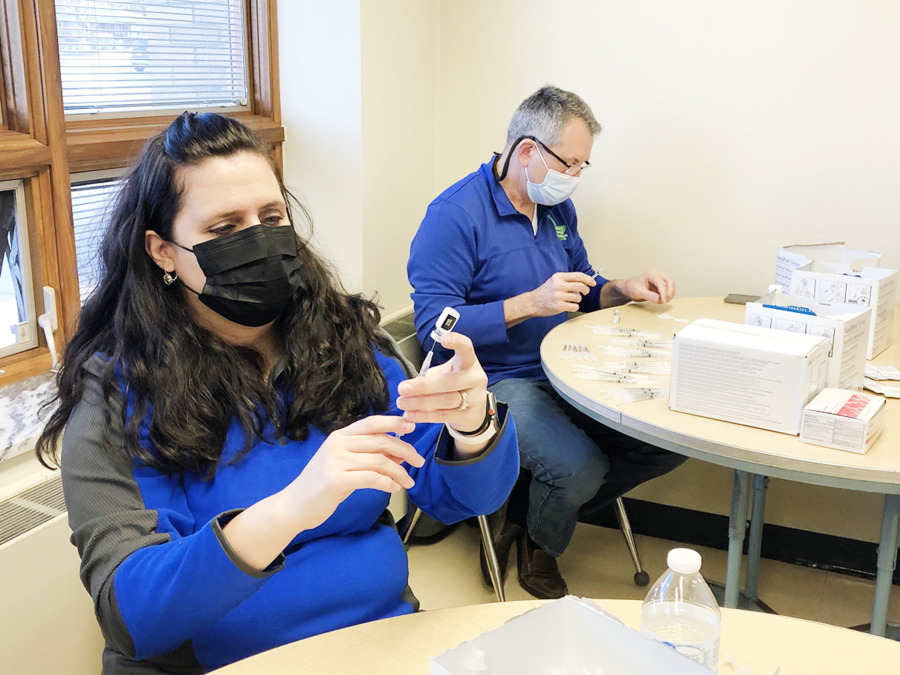 Pharmacists Ida Menold and Randall Clark filling vials at a COVID clinic at Greenville High School.