Pharmacy Automation Helps Curb Pharmacy Staff Burnout at Right-Way Meds
The city of Holly Springs, Mississippi is rich with history dating back to the Civil War. Tucked in the city are historic railroads that snake their way through, 175 homes that are marked as historic, and the local pharmacy, Right-Way Meds, which has a story of its own.
Industry Burnout Leads to Change
Right-Way Meds, part of the Tyson Drug stores, is owned by Bob Lomenick. About ten years ago, Bob found himself becoming burnt out in his profession. While he possessed a deep passion for pharmacy, he was finding it difficult to perform his daily tasks. It seemed something else was constantly requiring his attention – whether it was patients with medication questions, or a technician needing assistance – there were never ending distractions.
As a pharmacist, Bob understood first-hand the importance of patient counseling and education as it relates to medication management and adherence, but between counting and packaging pills, there didn't seem to be enough time for both. Bob knew he could either leave the industry, accept it as it was, or change it. Remembering why he went into pharmacy in the first place – to help and improve patient outcomes – Bob decided to take matters into his own hands and change his pharmacy for the better.
Identifying Challenges and Igniting Change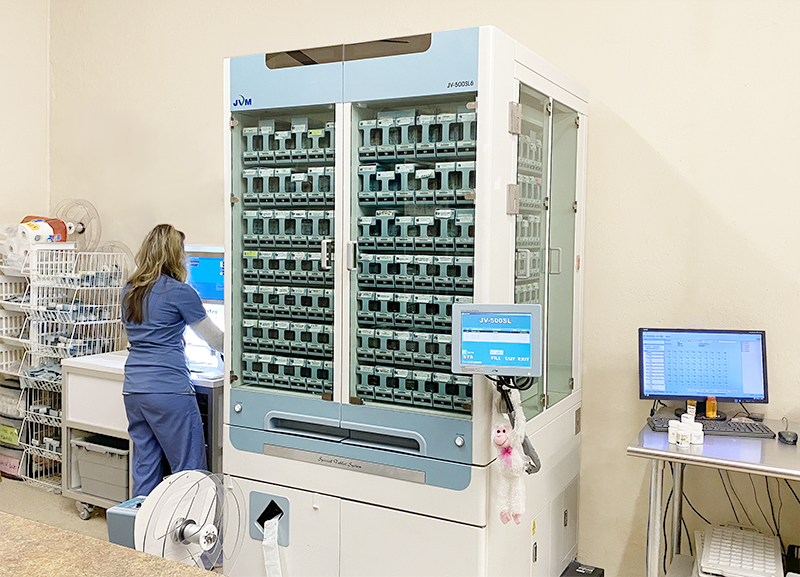 It wasn't just lack of efficiency that sparked Bob's quest for change. When he would make his routine calls to check on the status of a patient's medications, days in advance before the refill was due, more often than not, he would find that the number reported to him wasn't what it should be. It was during these calls that he realized his patients were facing medication adherence issues at a large scale.
It was around the same time Bob learned about medication synchronization and decided he would build his own medication adherence program. Bob looked to local resources for ways he could implement change in his pharmacy and attended a trade show, where he learned about Parata's technology, including the Max and PASS.
At the time, Bob was the first retail pharmacy to implement the PASS, as it had previously been used solely in long-term care facilities, but as a leader and innovator in pharmacy, Bob did not let that deter him. After learning how the technology could help his pharmacy scale and aid in compliance packaging, he decided this would provide him with much-needed assistance and purchased the technology that day.
Doing More with Less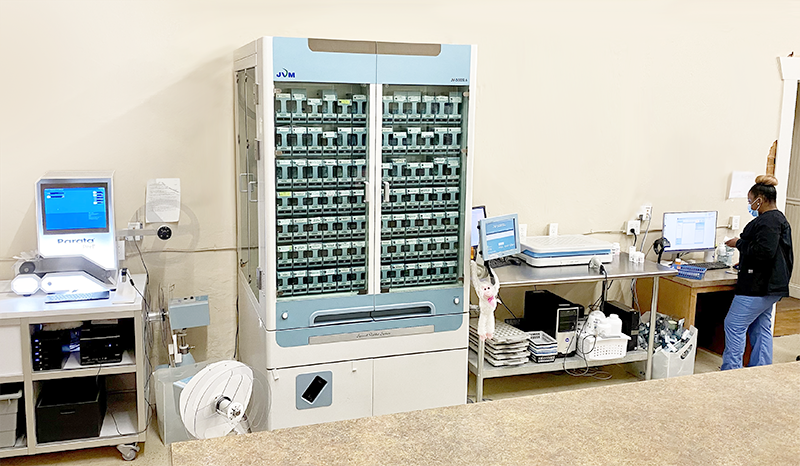 With the help of the technology, Bob created a medication adherence program for his local customers dubbed "adherence on steroids." Using compliance packaging immediately helped Bob keep his patients on track with their medications, as it was customized for each patient.
Putting his patients on a monthly program allowed for operations to run more smoothly and efficiently. In the time since implementation, he has observed major differences in patient outcomes and adherence levels. With the technology running 3-4 hours a day in the background, Bob and his staff are now freed up to focus on other clinical tasks. There is now the time to answer customer questions, make monthly calls to patients ensuring they are taking their medications, and demonstrate his workflow to local pharmacy students from Ole Miss: The University of Mississippi.
Success – By the Numbers
Over the last five years, Right-Way Meds has seen a 65% increase in prescription volume due to the help of automation technology. Not only is Bob's pharmacy seeing greater workflow efficiency, more importantly, customer care and outcomes are being improved. Bob now has a proactive business model in place instead of a reactive model – with the ability to track if medication are being picked up and if they are being taken correctly, which helps keep his patients out of the long-term care facilities and hospital systems, something Bob is thrilled about.
There is likely more evolution to take place in Bob's pharmacy in Holly Springs over the years, but he is confident in the future of pharmacy and automation.
Compliance Packaging Automation
Discover the solutions empowering Right-Way Meds Pharmacy to better serve their community.