Rural Medi-Thrift Pharmacy Powers Through Pandemic with Adherence Packaging.
In a small rural area of Tennessee, you will find the city of Jamestown, a "city" with around 2,000 people. The laid-back rural lifestyle, close proximity to national parks, and the small town feel — where friendly citizens know each other by name — draws people from all over the country. In the heart of the city is the family-owned local businesses, Medi-Thrift Pharmacy.
Since 1943, Medi-Thrift Pharmacy has been servicing the community and developing deep and lasting relationships with its customers. Joey and Rayella Vaughn both grew up in Jamestown, making their way through the local school system with deep family ties in all areas — Joey's father being the Alvin C. York Agricultural Institute football coach, and Rayella's family owning a local grocery store. The pair returned home after graduating from college, and Rayella began working at Medi-Thrift Pharmacy in 1990. In 2002, they purchased the pharmacy, and have been providing personalized pharmacy care ever since.
Patient-First Treatment
For over 75 years, Medi-Thrift has prided itself on its familial roots in the town. In a community as small as Jamestown, everyone is family and Joey and Rayella treat every customer as such. That being the case, the pair knew their community was experiencing medication adherence challenges. From diabetic patients struggling to manage their medications, or their elderly population struggling to fill pill box organizers, which can be difficult to keep straight. Non-adherence was evident.
With 23% of the population in the United States taking three or more medications per day, non-adherence is not uncommon, but Joey and Rayella wanted to make a lasting change for those relying on them for pharmacy needs. Since the local hospital closed down in 2018, and there is only one long-term care facility in Jamestown, the community had to rely on their local pharmacy more than ever, pushing the duo to invest in automation technology to begin driving change.
Looking Towards the Future
Based on their previous experience in the retail sector, Joey and Rayella knew the future of pharmacy was technology and automation. As with any lateral in pharmacy, it was time to retire the days of pharmacists counting pills in the back room. Instead, they wanted to empower their team to service patients at the front of the counter and practice at the top of their license. By implementing Parata PASS™ pouch packaging and Perl® inspection technology solutions, Joey and Rayella showed customers their pharmacy wasn't just an average retail pharmacy but could evolve to better serve patients and their needs.
Now, the couple is able to successfully consult with patients, answer questions, and scale their business, all while Parata's PASS pouch packaging technology packages and fills in the background. This is especially helpful as the pharmacy team works to fulfill medication deliveries and manage their drive-thru window traffic.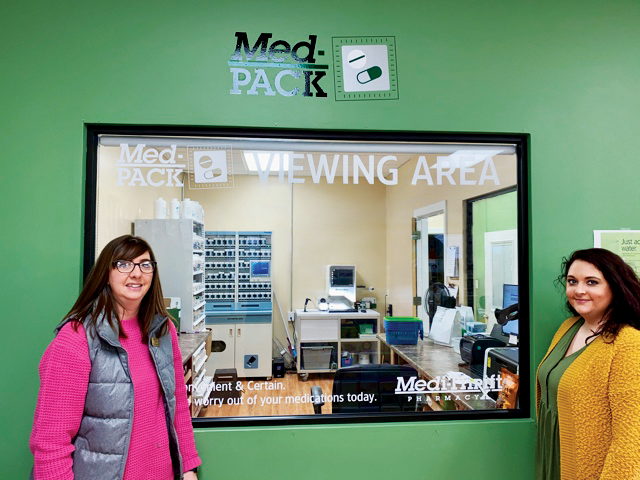 Before the pandemic hit, the pharmacy team already had one delivery car and were fulfilling 250 – 300 deliveries per month. After purchasing a second car, deliveries have increased to about 600 per month. Without automation technology taking over some of these tasks that required a great deal of staff time, they wouldn't be able to incorporate these other services. With time saved, Medi-Thrift can offer free delivery, health screenings, and durable medical equipment.
Educating on Adherence Packaging
Next came educating the community about these new services. The team settled on a hands-on approach that used a simple bingo game at the local senior center to demonstrate the new adherence packaging.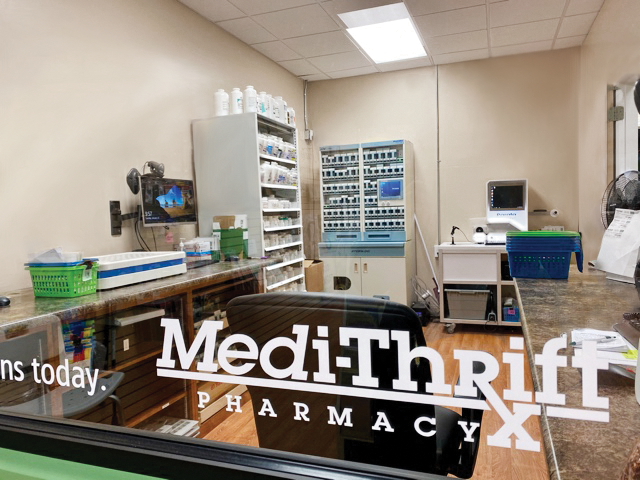 The packaging not only empowers patients and their caregivers to improve medication adherence, but the technology also allows Medi-Thrift Pharmacy to allocate resources where they are most needed. The pharmacy does not use robocalls or auto-fill options for patient prescriptions; they pick-up the phone and take the time to call each patient individually. This contact allows them to discuss the medications, identify any potential issues, address questions, and ensure patients are satisfied and feeling confident in their care. This is crucial engagement time that otherwise would be occupied by counting pills on the back counter.
Each person at the table received pouch packaging with the same color skittles inside, except for one pouch that contained a different color candy. To determine who had the winning pouch, everyone opened theirs, an exercise highlighting how easy the packaging was to use. Experiencing the ease of the packaging, the community was instantly won over.
Powering Through an Ongoing Pandemic
Despite the challenges of 2020, Rayella and Joey have remained confident in their goals. Servicing the community on a daily basis was something that couldn't be stopped – even by COVID-19.
With a majority of their patient population exercising caution about coming into their brick and mortar store, Joey and Rayella are adapting to meet demands and increase efficiency where possible. It is likely that as the pandemic continues, pharmacy will evolve and present an additional opportunity for technology. Fortunately, looking towards the future and embracing high-tech changes in pharmacy has left Medi-Thrift Pharmacy feeling prepared for what is to come.
Compliance Packaging Automation
Discover the solutions empowering Medi-Thrift Pharmacy to better serve their community.