Spend less time labeling, counting, sorting and capping — and more time providing the kind of patient care that inspired you to become a pharmacist.
[vcex_spacing size="30px"]
Maximize Your Efficiency
Parata Max sets new benchmarks for speed, supports up to 188 NDCs, and automates up to 60 percent of your total prescription volume. With Max doing the labeling, counting, sorting and capping, you're free to focus on running your business and providing the kind of patient care that inspired you to become a pharmacist.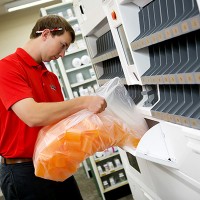 Minimize Your Touch Time
Built to run smoothly with little upkeep, Parata Max can store up to 232 completed prescriptions before requiring attendance. And its smart, two-sided design separates inventory from dispensing, so you can replenish vials, caps and drugs while Max continues to complete prescriptions.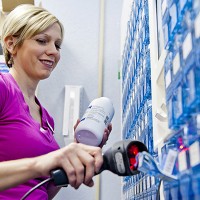 Put Safety First
When proper processes are followed, Parata Max is 100 percent accurate for drug and dose.1 Each cell contains a unique barcode, which is scanned during restocking to ensure a match with the stock bottle. The barcode also enables Max to identify a cell and its contents from any location in the unit, so Max always dispenses the correct drug.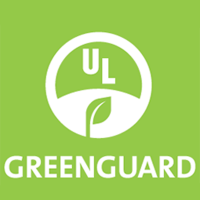 Breathe Easy
We're committed to providing the highest performing, most eco-conscious and safest machines we can create. Parata Max is the only pharmacy automation dispensing technology that is UL GREENGUARD certified for indoor air quality and meets the even more stringent UL GREENGUARD Gold requirements used in schools and hospitals.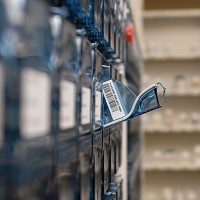 Choose Locking Cells for Added Security
Designed to maximize safety and prevent diversion, our optional, patented locking cells automatically lock when closed and stay locked if they are removed from Max. Cells are replenished while in the unit, one at a time, and open only when an authorized user verifies a barcode match between a stock bottle and a cell.
[vcex_icon_box icon="fa fa-file-text" style="five" heading="Get the Specs" heading_type="h2″ url_target="_blank" url="/wp-content/uploads/2015/08/Parata-Max-high-speed-robotic-dispenser.pdf" icon_type="fontawesome"]Get to know Max better — click here to download the Parata Max spec sheet for more information, including product dimensions and space and electrical requirements.[/vcex_icon_box]
[vcex_icon_box icon="comments-o" style="five" heading="Let's Talk" heading_type="h2″ url="#outer-wrap" url_target="local"]Leading pharmacists rely on Parata Max for the highest accuracy, speed and output available. Contact us today to learn what Max can do for your pharmacy.[/vcex_icon_box]
[vcex_testimonials_slider css_animation="left-to-right" count="3″ order="DESC" orderby="date" skin="dark" display_author_name="yes" display_author_avatar="yes" display_author_company="true" excerpt="true" custom_excerpt_trim="false" excerpt_length="20″ read_more="true" read_more_text="read more" background_style="stretch" slideshow="true" slideshow_speed="7000″ animation_speed="600″ include_categories="max-product" img_width="100″ img_height="100″ img_border_radius="50%"]
1 Parata automation uses barcoding to verify a match between the inventory bottle NDC, unique to medication and strength, and the barcode on the dispensing cell. Parata automation selects the correct cell for dispensing 100 percent of the time, ensuring accurate drug and total dosage when proper processes are followed by the pharmacy.