Learn More about AccuCount II
AccuCount II offers the highest counting speed in the industry, helping you fill more prescriptions in less time, without adding resources.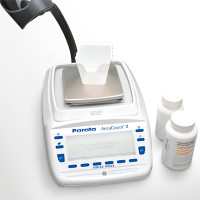 Count Pills Safely and Accurately
[vcex_spacing size="10px"][vcex_bullets style="check"]
Precisely weighs tablets in seconds
Ensures accuracy with barcode verification
Calibrates automatically — no need for external weights
Has the largest display on the market
Comes with a one-year warranty
[/vcex_bullets]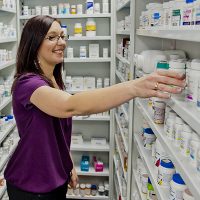 Scan Barcodes for Fast, Accurate Counting
To immediately and accurately count pills in the scale, simply scan the stock bottle's barcode. AccuCount stores data on 500,000 drugs, ensuring an accurate count based on preset calculations.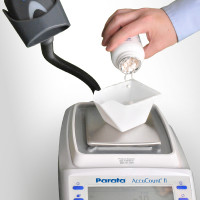 Choose Precision and Flexibility
AccuCount has a 620 gram capacity with 1 milligram readability and is Class II NTEP certified, as required by most states. AccuCount uses Swiss weighing precision, so you get accurate counts even without scanning bar codes, making it easy to select a sample size.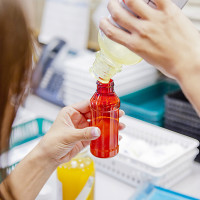 Expect Easy Compounding and Effortless Inventory
With the scale in weighing mode, it's easy to accurately prepare compounded drugs to provide customized medications to your patients. And you'll never appreciate your AccuCount more than when it's inventory time. Its barcode scanning and high counting speed provides accurate drug counts in just seconds.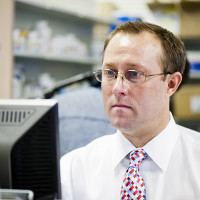 Connect Your Systems
AccuCount II has a new graphical interface with on-screen instructions for ease of use and a 12-key control panel, including multi-functional keys. With its USB port and the option to connect a keyboard, AccuCount can share data by connecting to a computer in your pharmacy.
[vcex_icon_box icon="cog" style="five" heading="Explore Automated Dispensing Solutions" heading_type="h2″ url_target="_blank" url="/solutions/automated-dispensing/"]Looking to increase productivity and boost your bottom line? Our high-speed automated dispensing solutions help ensure safety, accuracy and efficiency in any pharmacy setting.[/vcex_icon_box]
[vcex_icon_box icon="comments-o" style="five" heading="Let's Talk" heading_type="h2″ url="#outer-wrap" url_target="local"]Leading pharmacists choose Parata technology solutions to support business growth, improve health outcomes, and lower medical costs. Contact us today to learn what Parata can do for your pharmacy.[/vcex_icon_box]
[vcex_testimonials_slider css_animation="left-to-right" count="5″ order="DESC" orderby="date" skin="dark" display_author_name="yes" display_author_avatar="yes" display_author_company="true" excerpt="true" custom_excerpt_trim="false" excerpt_length="30″ read_more="true" read_more_text="read more" background_style="stretch" slideshow="true" slideshow_speed="7000″ animation_speed="600″ img_width="100″ img_height="100″ img_border_radius="50%" include_categories="max-product"]