Paul Shinbo, Parata Field Support Engineer
We believe diversity, equity, and inclusion makes us stronger and that everyone deserves a place where they are valued for who they are.   This month, Parata is celebrating Asian American Pacific Islander Heritage month with a spotlight on a few of our employees.
My name is Paul Shinbo and I'm half Japanese. My grandpa and grandma came to the United States in the 1930's. They didn't know each other – my grandpa was studying to be a biochemist at the University of Washington and my grandma was a nurse in California. During the war they were put in a U.S. relocation camp for Japanese Americans at Tule Lake Relocation Center, CA. That is where they met and got married. My grandma joked that it was nice because the whole family was there, although "not by choice." After the war they came back to Washington but due to prejudice towards Japanese he couldn't get his degree and credit for classes. So, they opened a flower shop. Upon his return from serving in the Vietnam war, my father took over the shop and still runs it today. It is currently the oldest Japanese owned flower shop in Seattle!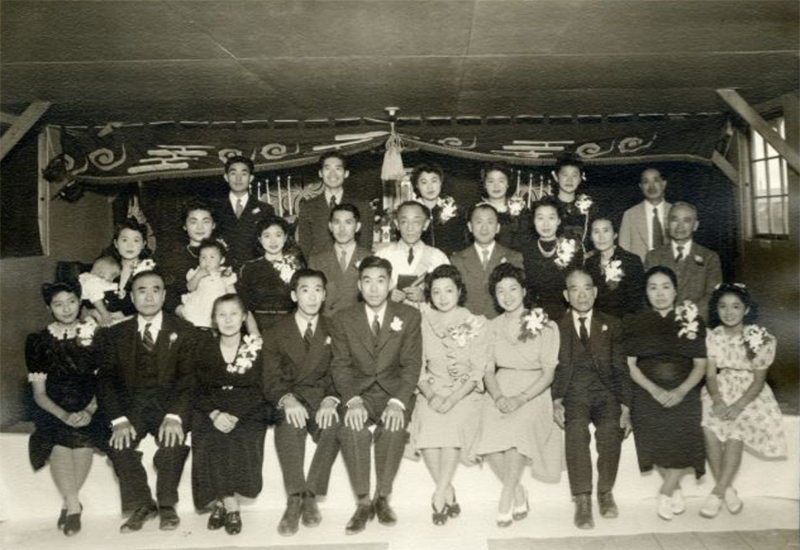 Picture of my grandparents wedding at Tule Lake Relocation Center.
The above photo can be found online at Sacramento State University Library with the caption: Group of Japanese Americans at wedding of May Asai and Hachiro Shinbo at Tule Lake Relocation Center.  "Miss May Asai, daughter of Mr. and Mrs. Shohei Asai, was married to Hachiro Shinbo, son of Mr. and Mrs. Hachiemon Shinbo on Saturday, August 28, with Rev. Naito officiating. Miss Asai who is a R.N. at the Base Hospital, is a former Sacramentan, and Mr. Shinbo, a lab technician, is formerly from Seattle, WA. The baishakunins for the couple were Mr. and Mrs. Kenji Ito and Dr. and Mrs. Akamatsu. The reception was later held at #520. The newlyweds are now residing at #701-C."