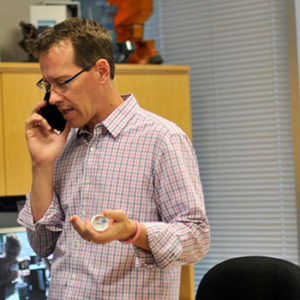 Mark Longley
Executive Vice President, Business Development & Sales
Mark Longley
Executive Vice President, Business Development & Sales
Company value Mark most embodies: Approachable
Mark joined Parata in 2004 as director of strategic accounts, but says, "I would have taken any job offered to me. I just knew this company would be successful and wanted to be a part of it."  Mark immediately loved the vibe at Parata, the energy of the team drawing him in.
Mark is happiest looking forward, brainstorming automation solutions with our customers, and dreaming big with internal teams. He became EVP of Sales and Business Development in 2014.
Favorite Thing About Parata
It's a 17-year-old company that still behaves like a startup.
Off The Clock
When he's not working with customers or the sales team, Mark is visiting the mountains and beaches of North Carolina or rooting for his daughters as they bump, set, and spike their way through volleyball competition.
We Love Robots
Mark's favorite movie robot is I, Robot's Sonny because of his ability to work in partnership with his human friends.