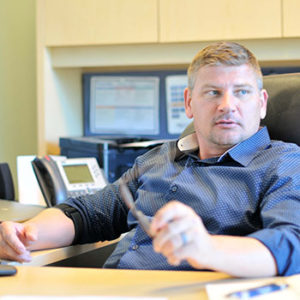 Marcus Kennedy
Vice President, Product Developmet
Marcus Kennedy
Vice President, Product Developmet
Company value Marcus most embodies: Proactive
After graduating from Nortwestern, Marcus worked for McKesson as their Director of Field Operations. From there, he has rocked several leadership roles in Parata, most recently assuming the role of VP of Product Development in 2015. An Army veteran, Marcus takes special pride in building the teams that serve Parata's government and Department of Defense pharmacies.
A great day at work for Marcus means he gets to brainstorm with the engineering team. After all, what could be better than collaborating with the best in the business?
Favorite Thing About Parata
Focusing on the future to innovate and to make a meaningful impact on the industry.
Off The Clock
If you see Marcus outside the office, he is likely either boating with his family or cruising the open road on 2 wheels.
We Love Robots
Marcus's favorite movie robot is The Terminator.