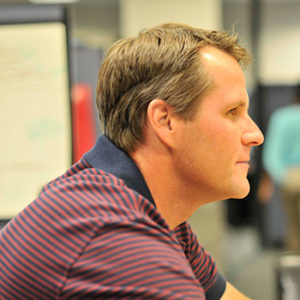 Graham Schillmoller
Vice President, Finance & Operations
Graham Schillmoller
Vice President, Finance & Operations
Company value Graham most embodies: Proactive
Armed with impeccable organization and logic, Graham could have embarked on a number of career paths. He switched tracks from engineering to finance halfway through his time at NC State University — attracted to the opportunities for strategic and creative thinking on the business side.
In its early days, Parata was Graham's client. He was advising Parata as a public accountant, and he couldn't resist the opportunity to make a real business impact at the energetic, fast-growing startup. In 2004, Graham officially joined the Parata team.
Ever since, Graham has focused on creating operational efficiency, building a trusted team, making big decisions, and driving Parata's financial success. He became vice president of finance and operations in 2014.
Favorite Thing About Parata
The culture at Parata — driven by the great people who work here — is probably the best part.
Off The Clock
In his free time, you'll find Graham on the tennis courts.
We Love Robots
Graham's favorite movie robot is The Terminator. Yes, the original one.