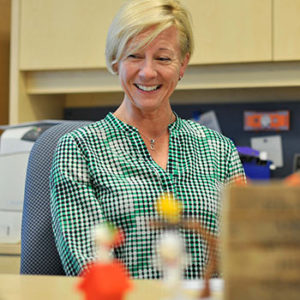 Cathi Loftin
Vice President, Human Resources
Cathi Loftin
Vice President, Human Resources
Company value Cathi most embodies: Collaborative
While working at a few technology startups early in her career, Cathi found HR gave her the opportunity to wear many hats, working on a finance project one day and sales and marketing the next. In a given week, she gets to practice law, dabble as an application administrator, and sometimes witness the marvel of a theoretical idea becoming a new product. She thrives on the challenge of understanding the nuances of the business and the relationship to people who make it a success. Mapping out all the variables in between make every day interesting.
Cathi was introduced to Parata as a consultant in 2007. Inspired by the company-wide spirit of innovation, she jumped at the chance to come on board in 2011.  She became vice president of human resources in 2016.
In her role, she checks in with new employees a few weeks after they've come on board. Her favorite moments at Parata are these meetings when people overwhelmingly announce they love their team. "That moment reminds me we have something special at Parata many other companies just don't have," she says.
Favorite Thing About Parata
The people, of course.
Off The Clock
In her free time, Cathi enjoys staying active at the gym and doing yoga. On days off, you may find her at the beach or cheering on the Clemson Tigers.
We Love Robots
Cathi's favorite movie robot is R2D2.