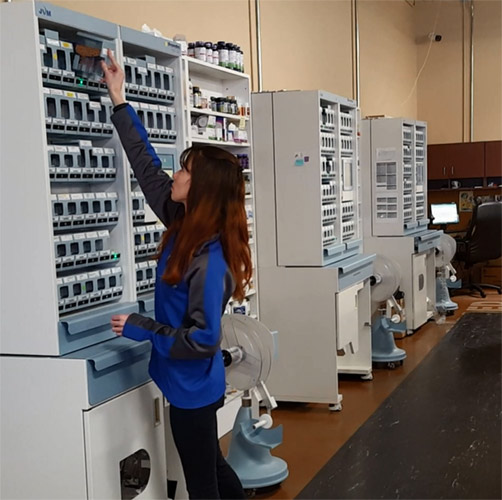 Increase Daily Throughput
Pivot helps pharmacies with multiple PASS units leverage their existing technology. by better balancing the workload across your fleet of packagers, you can increase your daily throughput by as much as 50 percent.
Optimize Batch Routing
The patent-pending software tackles complex calculations to determine the optimal packager to use for each batch, no matter how many packagers your pharmacy has or how many batches you have to fill. You can take Pivot's recommendation or override it to select one for the job you prefer.
MOVE YOUR CANISTERS. KEEP YOUR DATA.
Smarter Canister Managment
Pivot integrates multiple PASS units as one. The software platform tracks your canisters and their inventory whether they are on a packager or on a shelf. By enabling canister sharing across PASS units, Pivot minimizes canister duplication and reduces the number of canisters needed by an average of 30 percent.
Minimized Need for Special Tablet Trays
By more efficiently using your canisters, you can reduce special tablet tray use by more than 25 percent. That means fewer manual steps and decreased opportunities for human error.
One Report for All Your Packagers
Facility-wide reporting gives you powerful insights into your inventory and your operations. You'll have incredible visibility — in one place — into the ways Pivot helps increase daily throughput by as much as 50 percent.