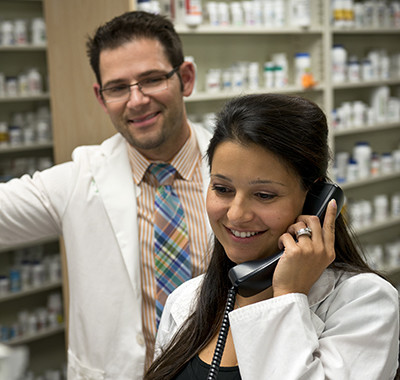 Can Pharmacists Play a Strategic Role in Improving Patient Outcomes and Preventing Hospital Readmissions?
As health care reform shifts from volume-based care to value-based care, many question whether pharmacists can play a strategic role in improving patient outcomes and preventing hospital readmissions. We believe the answer is yes, most definitely! And Parata customers and pharmacists Tim Wright and his wife, Nora Wright, are proof that they can do just that. The couple own and operate Wagner Pharmacies, with four locations in Clinton, Iowa.
The Wrights developed a data-driven clinical program, MedAssist, designed to improve patient outcomes and position their pharmacy for success in the changing health care landscape. The Wrights fundamentally believe that pharmacists can improve outcomes and reduce readmissions through a robust medication adherence program supported by patient education and internal communication.
To learn more about the success of the MedAssist program, click here to read a feature on Wagner Pharmacies in Drug Topics entitled, "The role of the pharmacist in preventing hospital readmissions".
Board-certified ambulatory care pharmacists, who are trained to support patients in medication therapy management and medication adherence, play a central role in the development and success of the program. Parata's PASS strip packaging is another critical element in their adherence program. Having patients' prescriptions packaged according to day and time of dose makes it easier for them to manage medications and lead healthier lives.
In addition to these two key components, Wagner Pharmacies' MedAssist program uses a multitude of tools, including:
Industry data on the effectiveness of medication synchronization and adherence programs
Ongoing staff and patient education
One-on-one patient interviews with a clinical pharmacist
An initial evaluation of Wagner Pharmacies' program has shown a dramatic increase in medication adherence rates. After studying a baseline of 50 patients who took five or more medications for chronic illness and had been enrolled for six months or longer in the MedAssist program, results showed an average increase of 52% in proportion of days covered (PDC), a measure of medication adherence.
You can read more about how Tim and Nora are using data to develop clinical programs that position their pharmacies and patients for success in Wagner's Parata customer success story. Tim also shares lessons learned for redesigning their practice to prepare for the shift from a volume-driven to a value-driven health care model in this success story video.
We love to hear how pharmacists are using our products in conjunction with internal programs to drive medication adherence. If you have a great story to share about how you're improving patient outcomes, reducing hospital readmissions for your patients and/or reducing related health care costs, leave a comment below or email us at social@parata.com. Thanks for connecting with Parata!