With our adherence program, we know when patients will receive their monthly medications and we can make the most of every patient interaction."
Tripp Logan, PharmD L&S Pharmacy
Attract Patients & Partners
Tripp shares tips for creating a powerful adherence program that gets noticed.
Tripp and Richard Logan, pharmacists and owners of L&S Pharmacy, are using a medication adherence program to add predictability to their pharmacy's workflow and increase their prescription volume.
With plans to take their pharmacy from reactive to proactive, Tripp and Richard wanted to develop a program that would position their pharmacy for success by helping patients successfully manage their chronic conditions.
Nearly 10 years ago, Tripp and his father, Richard, began making plans to take their pharmacy from reactive to proactive. They rolled out a medication adherence program that consolidates patients' medications, increases convenience and establishes regular, high-value touch points.
"We weren't helping our patients manage their chronic conditions — we were reacting to their medication needs four to six times each month," says Tripp. "We wanted to add convenience by reducing trips to the pharmacy and improve care by emphasizing the quality of each visit."
L&S rolled out a medication adherence program to consolidate patients' medications and incorporated Parata Max high-speed dispensing solution to streamline pharmacy processes.
The Logans began transitioning chronically ill patients on multiple medications to their adherence program. It had a dramatic impact on their pharmacy's processes and numbers.
"We moved to almost a long-term care pharmacy workflow," Tripp says. "Our adherence program accounts for nearly one third of our patients, so we're able to plan ahead. We know when patients will receive their monthly medications and we can make the most of our interactions with them."
Because the most common prescriptions in the adherence initiative are chronic medications, fast movers and generics, L&S is able to automate up to 70 percent of the program's fills with Parata Max dispensing solution.
"With Parata Max filling the bulk of prescriptions for our adherence initiative, our technicians are free to engage patients through regular care calls," says Tripp. "We check in with patients about their health, secure prior approvals or suggest more affordable drugs."
In 2009, the National Alliance of State Pharmacy Associations invited L&S Pharmacy to participate in a national pilot program around adherence. The pharmacy's results were so positive that Pfizer later conducted an analysis of its adherence initiative and five years' of prescription and health data.
Pfizer's study showed a sizable increase in prescription volume for patients in the adherence program. On average, program participants filled an additional 29 scripts per year. With more than 330 patients in the program, L&S secures 9,570 extra scripts each year. The same study noted significant increases in adherence measures, profit margins and generic utilization.
Based on their learnings, the Logans developed MedHere Today®, a comprehensive medication adherence service. MedHere Today provides pharmacists with tools to create an adherence program based in medication therapy management and a way to track the program's impact on the pharmacy business and patient outcomes.
"When you're talking with large health plans, there's strength in numbers," says Tripp. "A network of pharmacies focused on improving patient outcomes is more appealing than a single independent pharmacy. With MedHere Today, we've built a network of more than 60 pharmacies focused on patient care and prepared to make a difference in the health care system."
This medication adherence program helps our patients and our business, and it puts us in a good position with health care providers and payers."
Tripp Logan, PharmD
L&S Pharmacy
Parata Solutions: Max Dispenser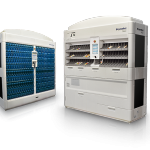 Pharmacists across the country are using Parata technology to help improve patient adherence and outcomes and reduce health care costs.
Want to know if Parata Max automated dispensing solution is right for your pharmacy? Contact us today for more information.
About Tripp
Tripp and Richard Logan own and operate L&S Pharmacy in Charleston, Missouri. They also co-own MedHere Today, a model of pharmacy practice that takes a proactive approach to medication adherence. Tripp and his father rely on Parata Max to label, count, sort and cap much of their prescription volume, so the pharmacy team is free to help patients manage medications and lead healthier lives.